A song from childhood.
Have been practicing Bach Prelude in C min fore more than 6 months. With very little me-time I have, guess it can't be better than this.
Music sheet for Bach Prelude. Downloaded from Wikipedia.
The more I play when my kids are around, the more motivated they become in practicing. I guess I have to give the example?
&nbsp
Some quick updates ....
This video was taken a couple of weeks ago, when he was still playing from the book below.
It's an antique book, used by my brothers and I back in Holland when we were young. To celebrate those better days, Joseph and I worked on some pieces for around 3 months.
Theory lesson also continues. With the help of another old book, Joseph learns more musical terms in the Indonesian language

I
was learning from this Master Theory while in Jakarta (27 years ago!). It's in Indonesian language, which helps us to consistently use one language only (and prevents me from using the borrowed English words)
I brought these old books from my parents' house on my two last trips to Indonesia. Bach's Short Prelude and Piano Pieces for Children remind me very much to my years in Damascus. Master Theory was the source of my nightmares (I sucked in theory, big time!). Glad I never thrashed these precious junks away!
I still need to buy some new books for some guidance tough. Joseph began with these Alfred's Piano Lesson and Theory book 2 and Czerny op. 599 only a week ago (after that Folk Dean's). Silly me, I should have brought my own Czerny from Jakarta!
The plan is to start with these three soon, next to Alfred's and Czerny. These Schmitt, Duvernoy and Scales were also mine *snif*.
The pencil marks written down by my teachers (two of them already passed away) are still clear on the pages. Now seeing Joseph plays from the same books, is like going down the memory lane.
-------
Louise joins the club. Like her brother, she works from Little Mozarts.
Gosh, it's been more than two years since my last post!

Joseph finished Little Mozart Book 2. Yippie! He reads middle notes on both treble and bass clefs and plays with curved fingers. He keeps on practicing on his listening and singing by doing solfege, identifying chords and notes. Chord identification is getting better, he knows the distinction between triads CEG, BFG, CFA. Note identification needs more practice, notes CDE, EDC are easy for him but identifying DEC and DCE is still a challenge. He doesn't mind the finger practice and I could see his little fingers are more flexible.

I'm very proud of my son. Although he still prefers to play with his cars and trains to work at the keyboard, he does practice everyday and obviously enjoy playing piano.







It happened this afternoon. While he was practicing on his own, Joseph played half-octave C-Major scale several times, using both hands, contrary style, both ways. We didn't work on scale or playing with both hands yet, therefore it was a surprise that he could figure it out all by himself. It seems playing freely on his own time does help him to develop some sense of tunes, orders, and creativity. Unfortunately enough, my camera is broken so there is no movie clip this time.
During his self-practice time, Joseph liked to create his own 'song' by playing notes randomly and pushing the midi buttons for fun effects. I noticed his tunes are becoming more melodic by days. It's definitely not a song yet, but I could here him pressing keys in a more patterned manner. ..... and today he discovered how to play a half-octave scale.
</lj-embed>
On pages 26-35, Little Mozart Lesson book 2 introduces notes on lines and spaces of the staff, the treble clef with notes C, D, E, and bass clef with notes C, B, A. These chapters mark the era of him being music literate! I feel rather touched, since at Joseph's age, I was also beginning to read music. The clip shows him playing notes A, B, and C on bass clef.
At this stage, Joseph is able and willing to practice by himself. He knows where the keys are on the keyboard and how to count them, starts to understand time signatures, and knows some dynamic signs.I have to hold myself from correcting him during his practice time. I mean, I give him piano lesson once per week, the rest I have to let him do trials and errors during, no? I will eventually know if he practices well or not on the lesson day so I myself should have some control. I keep on guiding his daily practice for solfege and chord parts, though, as these parts will always need assistance from another player. Besides, I should be more patient when teaching. He's a 4-year-old with lots of energy, and I shouldn't loose my temper each time he jumps or shouts during the lesson. It's easier said than done, I wish I had the patience of a mule *sigh*.
Louise is happy to join his brother's practice time. She usually sits on his right side, and press on some keys. The great thing is, big bro doesn't mind, which helps to keep everybody happy. Another thing from Louise is, she loves to sing and lately she has been singing
this French tune
. At around 9 months old, she began to follow my singing, like when I sang 'Old McDonald's' she would answer the 'heeya heeya' part. I guess surrounded by her brother's music practice and lesson help her to catch rythme and tune of songs. Now at 17 months old, she sings the whole day, I've been trying to capture her singing, too bad she would stop whenever she saw the camera.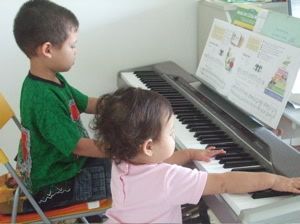 Joseph's piano lesson continues. He does really enjoy playing piano, and look forward to every lesson. I still need to supervise him practicinv everyday, but in general he's eager to practice by himself.
Since moving to Munich, I was too lazy to continue the solfege. The result, a couple of weeks ago, I was suprised to find out his ability to sing by following the correct tune was really declining. Not to mention that his listening ability crashed dramatically. So I started again the solfege, plus the 'listening to chord' practice. Now, he sings nicely again and he's able to identify chords C major and C7.
Another finding, when doing page 9, of Music of Little Mozart, Workbook 2, where I play notes that are the same or move up or down and Joseph should circle picture representing such, he was not able to do it. At the beginning I thought he wasn't sensitive enough to distinguish the notes, but after doing some checking (playing c c c and asked him to say the notes) actually he could do it. So I guessed, it was more the basic mathematical knowledge.
This pictures shows the tools used to explain the concept of 'the same' and 'different'. Each time, he managed to distinguish the color and knew that all pink means the same and blue, green and orange means different, but whenever I asked him to name if it's 'different' or 'the same', he again got very confused. So I just stopped doing the exercise. Probably next month he will have more understanding in this matter.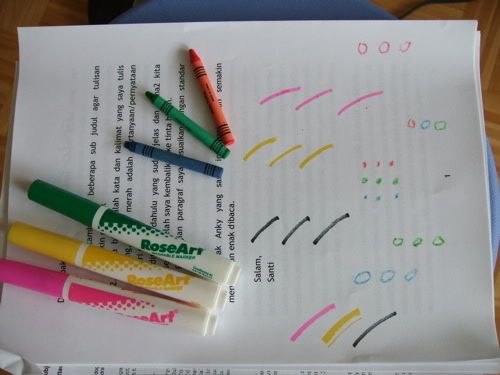 He's now on lesson book 2, page 31, where he reads notes on staff and spaces, on treble clef. He's excited and so far has no problem to read notes C, D and E. Hey, this beginning of reading music turns him into a biliterate, as he can already read English, and now he reads music. Wonderful!
It's been ages since the last time I wrote in this journal. I try to keep up, but with two kids, my other trilingual bog, my writing projects and house chores, it's really difficult to spend time writing this 2nd journal of mine.
After almost 6 months working, at last we finished book 1 and last weekend Joseph did a little performance in front of Blumi and Tinou, his French grannies, who were visiting us from Paris. Both kids were happy and excited as they hardly see their grannies. Although Joseph could play flawlessly when practicing with me, he was groggy playing in front of others. On the clips below, you will see hyper and jumpy Joseph. At the beginning, I thought he won't be able to focus, but hey, he did play all those three pieces. Well done!
Two days after we arrived in Munich, we went to a mall just 15 mins by foot from our place and bought this Casio Privia PX-110, which keys have hammer action resembling the classic piano. The price in Munich is twice as much as in the US. We almost bought it in Chicago until we found that the airline company would charge us $145 for oversize item, and the levy at the German custom would be 19% of the purchase price. In total we would save only $100 from the Europe price, and as we were traveling with many heavy pieces of luggage plus a car seat and 2 kids, we decided to just buy it once we're in Germany.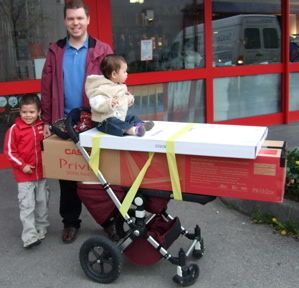 We didn't have a car yet, Louise's stroller came in handy.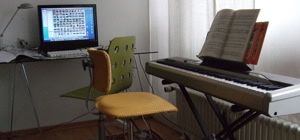 Digital corner at our temporary apt.
Both Joseph and Louise are very happy, it brings the sense of home they know back in Chicago. The sound is oke, I even like the fact I could play it while kids are in bed. The greatest part is, Joseph's piano lesson continuous after a week in Munich.

I've always preferred the classic-with-string piano to the digital one. But as it seems we will keep on moving for at least another time, and want to avoid buying and selling huge piano (again), we decided it would be better to buy a digital one, for now.
This piano was with Nico's family for some generations. For sure it was at his grandma's, aunt's and with us while in the Netherlands and the US. It was beautiful and added a warm touch to our living room. I was playing it for my own pleasure and since January Joseph joined the finger crowds. We were happy to find a buyer who will keep taking care of this old pal.
Posing before the movers wrap it
Good bye, old buddy, we hope you will be happy with your new family!
We had to leave our Thurmer piano. It was made between 1900-1910, and still in good condition as we had it tuned regularly. Still, the sound was never in its best anymore and as we will move to Germany and it's too heavy to ship, we decided to sell it.

He reads notes D and C, counts quarter notes and rests very well, but still needs guidance to keep his beat steady while playing with mama. On this clip, he's playing C using finger no. 1, with mama's accompaniment *Little Mozart, lesson book 1, p.29*.

PS: Mama is having a terrible cold!